Today I am super excited to present to you the "growing a detective" reading list. Because deep down inside we all want our lil youngsters to grow into mastermind secret agents - right? No but really,
imagine snuggling up in a cozy nook during a great thunderstorm. You are devouring a classic
Sherlock Holmes
story or
Agatha Christie
novel. Your child sits close by, snuggled in a blanket by your knees with his own exciting
Nate the Grea
t. It is a beautiful dream, and one I strongly desire to make reality. I've loved detectives stories since I could barely read, thus I truly believe it is a genre that can entertain and fascinate every age and reading level.
So without further ado: Detectives for ever age!
Picture Books:
The Adventures of Underwater Dog - Jan Wahl
Underwater Dog is a noble adventurer dog who never fails to catch the criminal, solve the crime, and save the day. This book is a great introduction to the undercover spy/policeman idea. The illustrations are cute and make the entire story extremely inviting. Although this book is pretty unknown, I believe it is a true hidden gem. It was one of my very favorites when I was first learning to read.
Grandpa's Teeth - Rob Clement
I must admit that I've never read this book. I included it because it received wildly popular reviews on the internet. It is a classic introduction to mystery, with a quirky sense of humor. What better way to get your kids excited about detectives then to send them on a very practical case: grandpa has lost his dentures and he must find them because they are very "shpeccial."
Piggins - Jane Yolens
Perfect detective introduction story with all the elements of a good mystery novel mixed with the simple illustrations and anthropomorphous animals of children's literature.
I Spy Mystery - a book of picture riddles - Jean Marzollo
Before kids are even old enough to read, they can be practicing their problem solving skills with fun I Spy riddle books. I have such sweet memories of snuggling up with one of my honorary grandma's on a rainy day, desperately searching through "I Spy" books together. It is a lovely experience I hope every child and parent can share.
Detective Blue - Steve Metzger
Little boy blue is all grown up and must solve a mystery with the help of all his nursery rhyme friends. A great link between the children's books of childhood and the mystery books of the next stage.
Alphabet Mystery
- Audrey Wood
Lower case X is missing and so all the letters must help to find him. Mixing the familiarity of A-Z stories with the exciting genre of mystery makes for an exciting twist on the classic alphabet story.
Beginning Readers:
Nate the Great - Marjorie W. Sharmat
This ( very possibly ) may have been the place where my detective obsession began. There is something awfully intriguing about these books. Although the wording is simple and the stories appropriate for even the most basic of early readers - the characters have unbelievably rich and complex personalities. To this day, I am still not sure I fully understand the strange Rosamond. The humor is also rather sophisticated. It is not silly or crazy, just a little strange. These books possess a subtlety you rarely encounter in beginning readers. I admit, I still find myself sneaking into the children's section to read a
Nate the Great
every once in a while.
Young Cam Jansen -
Cam Jansen was one of my first childhood heroes. You will hear more about her in the following section on "Elementary" books. I was absolutely thrilled when the author decided to take the same quick-thinking and intelligent young girl and bring her down to a beginner reading level. You can't go wrong with Cam Jansen!
Detective Dinosaur - James Skofield
Although I've technically never read these books, I've heard they are quite lovely. Parents called them "silly" "cute" and "surprisingly funny" on GoodReads. These dinosaur themed detective books are educationally stimulating as well: the author provides a dinosaur pronunciation guide in the back and the content can foster great educational questions. Great for young children reading with parents.
The Private Eyes Club - Crosby Bonsall
This series is cute, inspiring, and pretty funny. Four intelligent friends with a clubhouse go around town solving mysteries and helping out. I love the themes of strong friendships and kids doing great things. I should mention that the series has no official name. Just look for cutely illustrated books by Bill Consby in your local libary - you'll find em.
Elementary
Cam Jansen - David A. Adler
Cam Jansen was one of my earliest role models. She is just a regular girl with an amazing photographic memory. She can actually "take pictures" with her brain and she uses this amazing ability to solve incredible mysteries. These stories are fun and exciting - each adventure is very unique. Cam Jansen is one of the earliest examples of a strong female heroine that every young problem solver should be introduced to.
A to Z Mysteries - Ronald Roy
I loved this series as a kid. Looking back I am unimpressed by a what seems to be a lazy attempt at "interesting" main characters. But hey - I never minded as an eight year old! While this series does not fall under the category of quality literature, the stories are each very unique and interesting. Honestly, that is what matters most to your budding child detective.
Encyclopedia Brown - Donald J. Sobol
These were the first mysteries I ever read where YOU get to be the detective. Using an incredible memory and fascinating facts, Encylopedia Brown invites you to solve his mysteries before giving you the answer. Not only are these books entertaining, they are a ton of fun. I would recommend them to anyone between the ages of 8 and 12.
The Boxcar Children - Gertrude Chandler Warner
Almost every one of my sisters went through a box car children stage. When I say stage I mean checking out multiple boxcar children mysteries from the library every single week for months on end.
There is something very intriguing and sweet about four siblings working together to do great things. The mysteries are simpler then most, and after a while they begin to get a little predictable ( but hey, it took me months to get over them). The first book in the series borders on classic literature. The rest are not of quite the same quality, but they do make for a wholesome entertainment for a month or two.
Nancy Drew - Carolyn Keene
One of my favorite rainy day activities for my entire junior high life was snuggling up on my bunk bed with a glass of milk and a Nancy Drew book. Looking back I see Nancy Drew books as predictable and slightly annoying ( mostly because almost every single book ends with the father or the boyfriend saving the day just in time ) - yet for some reason I LOVED them as twelve year old. I will admit the fun lies in the different kinds of mysteries and the interesting places Nancy visits. It seems like Nancy and her friends are almost always on some type of interesting vacation. I loved entering her world of 50's convertibles, country clubs, and scary adventures with happy endings. Oh and lets not forget to mention the food descriptions - she is always eating something delicious! Make sure to have an exploratory imagination and good snack ready if you want to enjoy these books to their fullest potential. ( Side Note: The first eight are pretty great. Subsequent books are sort of up and down as far as quality goes. Generally it seems like they grew worse and worse with time.
Please
don't even try the modern spin called "Nancy Drew Case Files".
Hardy Boys - Franklin W. Dixon
Hardy Boys is Nancy Drew for boys. I used to enjoy reading them aloud to my younger brother. After a while I got tired of the same ending in almost every one (bad guy captures good guy. Bad guy laughs evil and tells good guy his entire plot. Good guys start punching and kicking and end up winning the fight. Yaay.) But hey - just as Nancy Drew was unreasonably entertaining for me, these books are ( still don't understand it ) favorites amongst adventurous boys everywhere.
Roman Mysteries - Caroline Lawrence
I introduced these books to my younger siblings when we were studying Roman history together. The setting is intriguing and extremely historically accurate. The richness of the setting testifies that the author really did her homework. Although our school unit on Rome was finished long ago ( in fact we are actually in summer vacation now ), my siblings ( both boy and girl ) cannot stop reading these mysteries. The characters are interesting and a little deeper then in most children's series. I love that they are learning about another culture and another time period, reading high quality literature, exploring intriguing mysteries, and having tons of fun - all at the same time. Win win!
Advanced ( Middle grades- Highschool ):
Adventures of Sherlock Holmes - Sir Arthur Conan Doyle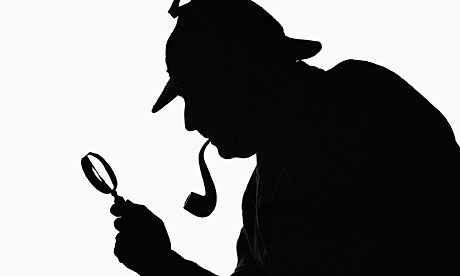 Where do I begin? Sherlock Holmes is one of the most interesting and famous figures in all of literature. His stories and quotes have become a big part of English and American culture - and for good reason. This book is a collection of 12 accessible short stories. They are a great sampling of his work, with a heavy dose of everything that makes Sherlock Holmes so great: intriguing story ideas, unique characters, unbelievable logic, and witty dialog. My theory is that as soon as a child can read an advanced YA novel with no problem, they should immediately be introduced to the joy that is Sherlock Holmes mysteries.
The Hound of the Baskervilles - Sir Arthur Conan Doyle
Although I have always been partial to Sherlock Holmes in short stories, Doyle also wrote four novels starring the iconic detective. Of all the novels, Hound of the Baskerville's is probably the best place to start. Many critics agree that it portrays Sherlock Holmes at his very finest.
Agatha Christie Novels -
Agatha Christie novels have a very unique charm. They tend to involve a wide cast of disparate characters. Not only does she always include a varied array of characters, through the detective skills of her famous Hercules Poirot, she explores each psychology in depth. It is a fascinating look into human nature for the young detective with a slightly philosophical bent.
Father Brown - G. K. Chesterton
The bumbly priest father Brown is an different sort of addition to the world of detective short stories. You might say he is the perfect mix of Sherlock Holmes and T.V.'s Colombo ( if such a mix is even possible). His stories are much less dramatic then your average whodunit. Warning: there are occasional violent descriptions of wounds or deaths that may disturb the fainter of heart, otherwise they are clean and appropriate for children.
The Westing Game - Ellen Raskin
This is the classic of classic in children's mysteries. One of my favorite books of all time, this book presents a unique cast of characters that are utterly entertaining and unforgettable. Although the plot is complicated ( and sophisticated ) for a children's book, it is certainly accessible to later elementary school and up. Don't worry if a student remains slightly puzzled after the first reading, I've read it three times and am pretty sure I still don't "get it" all the way. Introduce it young, since your reader will certainly be reading it over and over again throughout his/her life.
And there you have it! A perfect way to start training your lil tyke to be the world's next greatest problem solver! Enjoy.